Puregold Price Club Inc.

Cosco's flagship grocery retail chain, Puregold first opened in Mandaluyong City in 1998. From its humble beginnings, it has now solidified its position as a leader in the country's grocery retail industry. Puregold has emerged as the go-to retail brand for majority of Filipinos. Puregold consistently offers the best prices for grocery goods as it cements itself as a trustworthy supplier of goods. In addition, Puregold's impact to consumers was also driven upwards by its accessibility - with over 440 stores nationwide and increasing footprint in the provinces.

Since its founding, Puregold has continuously expanded its nationwide retail network through organic expansion and strategic acquisition with its eye on servicing the requirements of its customers. It, too, has consistently been a rewarding partner for its suppliers. These ingredients have allowed the company to offer the best value to its customers. Through its Puregold Perks card, it is able to offer end-consumers substantial savings on various products and avail of promotions every day. Through its Tindahan ni Aling Puring (TNAP) program, the company is able to give sari-sari stores access to low-cost merchandise and fresh items for their livelihood.

Puregold Stores may have grown from strength to strength, but the company is always keen on keeping in touch with its entrepreneurial roots by focusing on giving quality and friendly service to its customers.

To continuously sustain its robust growth, Puregold is still keen on expanding its reach to new locations nationwide. The company continues to target the opening of at least 25 additional grocery stores every year.
Puregold is also pursuing growth as a good corporate citizen. Aside from being a contributor of prosperity to the local community, the company continues to find ways to lessen its carbon footprint and its dependence on single-use plastics.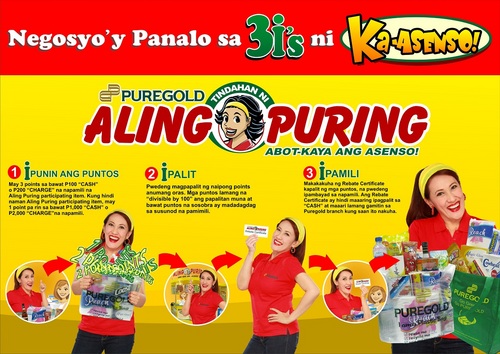 Tindahan ni Aling Puring
Puregold launched its Tindahan ni Aling Puring (TNAP) in 2003. TNAP is a customized membership program designed specifically for Puregold's primary customers from the Micro, Small and Medium Enterprises (MSME's) such as the sari-sari stores, minimarts, karinderyas, catering and other types of resellers.
TNAP members are also called Puregold Ka-Asenso's!
Tindahan ni Aling Puring has 2 Types of Card Membership, the Green Card and Gold Card.
TNAP Green card is the entry-level card of new and active members of Tindahan ni Aling Puring. This card may be used at any Puregold Price Club or Puregold Extra store.
TNAP Gold card is awarded to members who reach a minimum purchase of 1.3 million annually.
Gold Members are given the following additional benifits:
- Gold Plus Points and Gold Rewards (An incentive Program which rewards members when they reach set purchase target.
- Gold WIN - Welfare Insurance (A grant and access to Accident, death, Disablement & Calamity Insurance for Welfare and Business Continuity.

PERKS Card
The "Perks Card" is a loyalty card program that rewards the shoppers with points every time they shop at Puregold Price Club, Puregold Junior and Puregold Extra.
Puregold is operating retail stores in the following formats:
Hypermarkets
• primarily located in major commercial centers and transportation hubs
• offers a wide variety of food and non-food products
• caters to retail customers and resellers
• caters to Tindahan ni Aling Puring ("TNAP") members
• with 2,000 to 2,500 average net selling space
• offers more than 25,000 stock-keeping units (SKU)
Supermarket
• primarily located in residential areas
• offers a higher proportion of food to non-food products
• smaller stores than a hypermarket
• with 800 square mater average net selling space
• 8,000 to 12,000 SKU product assortment
Minimart
• smallest store format, serves as a community store
• selling fast-moving essential goods to high-density neighborhoods
• offers a more limited number of products
• selling top-selling SKUs ranging from 4,000 to 5,000
• around 250 square meters of average net selling space
We love to hear from you. Please contact us.
Puregold Price Club, Inc.
Head Office

No. 900 Romualdez Street, Paco
Manila, Philippines

TEL NOS.: (02) 522-8801-04

FAX NO.: (02) 523-3055